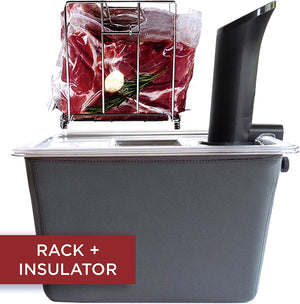 VÄESKE Sous Vide Container with Lid, Rack & Insulating Sleeve | 12 Qt Family Size | Heat Retention & Countertop Protection | Durable Polycarbonate Stainless Steel and Neoprene Sous Vide Accessories | Works with Most Sous Vide Cooker Devices
Sale price Price $59.99 Regular price $69.99 Unit price / per
✅ INSULATING SLEEVE CUTS COOKING TIME: Our 5 mm neoprene insulating sleeve prevents heat from escaping, meaning your container heats up faster and temperature is super stable for precision cooking results. Sleeve also prevents scratches and heat-related cracks to your countertop.
✅ RACK ELIMINATES FLOATING AND CLUMPING: Our adjustable stainless steel racks create circulation space between bags and the extra wide cross-bar prevents floating, ensuring your food cooks evenly from all sides.
✅ LID PREVENTS EVAPORATION: Stop setting an alarm to refill water overnight on long cooks. Our tailored lid keeps your water level full. No more risk of exposed food leading to half-cooked disasters!
✅ COMPLETE SOUS VIDE ACCESSORIES SOLUTION: Our durable polycarbonate container with lid, stainless steel rack and insulating sleeve is all you need to get the most from your sous vide circulator.
✅ FITS MOST DEVICES: 2.5" Lid Opening fits Nano, Anova, Joule and the majority of other cookers.

Product Details
Sous Vide Container
12.2 x 10.6 x 7.75 inches = 12 Quart Capacity.
Enough for 4-5 steaks or a whole chicken.
Crystal Clear Durable Polycarbonate - Heat Resistant - Designed to easily withstand 210 F, even tougher than you need!

Lid with Opening for Circulator
Accommodates most cookers with diameter 2.5" or less including Joule and Nano.
24 hr tests showed vast reduction in water loss to evaporation compared to no lid.
Adjustable Rack with Crossbar
Stainless Steel = no more rusting racks!
Adjustable spacers create 5 slots for pouches - fits your food.
Insulating Sleeve
High Grade 5 mm Neoprene locks heat in, stabilizing cooking temperature for worry free results.
Buy NOW with 100% Worry Free Guarantee