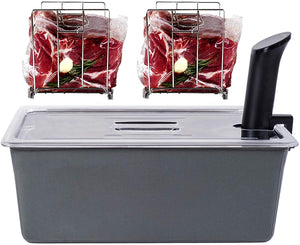 VÄESKE Large Sous Vide Container with Lid, Racks & Insulating Sleeve | 26 Quart Size | Retains Heat & Protects Countertops | Durable Polycarbonate Stainless Steel and Neoprene Sous Vide Accessories | Works with Most Sous Vide Cookers
Sale price Price $134.99 Regular price $149.99 Unit price / per
✅LARGE CAPACITY - 26 Quart Kit of Container/Racks/Lid/Insulating Sleeve Fits 10 steaks or chicken breasts and large cuts like whole brisket that you can't squeeze into the 12 Quart. Perfect for large families, parties, commercial kichens.

✅ INSULATING SLEEVE CUTS COOKING TIME: Our washable neoprene insulating sleeve prevents heat from escaping, meaning your container heats up faster and temperature is super stable for precision cooking results. Sleeve also prevents scratches and heat-related cracks to your countertop.

✅ RACKS ELIMINATE FLOATING AND CLUMPING: Our adjustable stainless steel racks create circulation space between bags and the extra wide cross-bar prevents floating, ensuring your food cooks evenly from all sides.

✅ LID PREVENTS EVAPORATION: Stop setting an alarm to refill water overnight on long cooks. Our tailored lid keeps your water level full. No more risk of exposed food leading to half-cooked disasters!

✅ FITS MOST DEVICES: 2.5" Lid Opening fits Nano, Anova, Joule and the majority of cookers.
Product Details
Sous Vide Container
20.5 x 13 x 8 inches = 26 Quart Capacity.
Crystal Clear Durable Polycarbonate - Heat Resistant - Designed to easily withstand 210 F, even tougher than you need!
Lid with Opening for Circulator
2.5" Opening - works with vast majority of cookers - Nano, Anova, Joule..
24 hr tests show vast reduction in evaporation water loss compared to no lid.
2 x Adjustable Rack with Crossbar
Stainless Steel = no more rusting racks!
Adjustable spacers create 5 slots for pouches - fits your food.
Insulating Sleeve
Neoprene locks in heat, stabilizing cooking temperature for worry free results.
Buy NOW